What is the role of Bank Al-Maghrib?
This section describes the basic missions of Bank Al-Maghrib and how they directly impact your daily life. It will address its main tasks, including banknotes and coins production, monetary policy tools, management of foreign exchange reserves, banks supervision, and ensuring the security of payment systems and means.
Bank Al-Maghrib is the central bank of Morocco. You should know that:
A central bank is not like any other bank. In other words, it is not a bank where the public can open an

account

*, transfer money, or even get a

loan

*. However, its functions are essential in our daily lives.
A central bank is the "bank of banks", where all commercial banks have

accounts

* which they are obliged to credit. It is also called the "National Bank" or the "Government's Banker" and in some countries, the "Old Lady".
Bank Al-Maghrib was founded in 1959 as a substitute for the former "Banque d'Etat du Maroc". Headquartered in Rabat, the Bank's network is composed of two branches, Rabat and Casablanca, and 20 agencies throughout Morocco.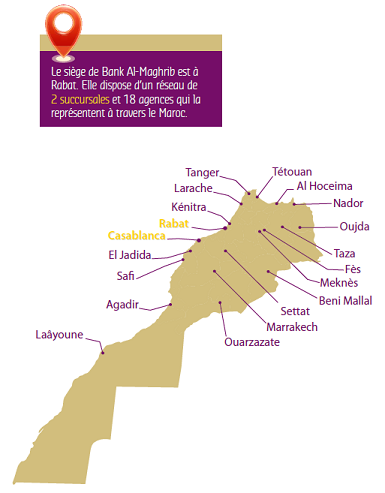 Bank Al-Maghrib's missions can be summed up as follows:
Manufacturing currency and preserving its security
Developing and conducting monetary policy
Managing foreign exchange reserves
Supervising the banking system
Securing payment systems and means
That's not all! Bank Al-Maghrib performs many other activities such as collecting and publishing the country's monetary statistics, preparing various reports, mainly the annual report presented to His Majesty the King, and contributing to strengthening domestic financial stability and preserving the value of the dirham.