Currency production and issuance
Bank Al-Maghrib manufactures and issues banknotes and coins to meet the needs of the national economy. That is why the Bank is also called "Currency issuing institute".
Bank Al-Maghrib has its own industrial unit, called Dar As-Sikkah. Opened on March 5, 1987 by His Majesty late King Hassan II, it is the sole authority in charge of designing and printing banknotes, minting coins, supplying Bank Al-Maghrib agencies and branches with currency, and maintaining banknotes and coins in circulation.
Through Dar As-Sikkah, Bank Al-Maghrib also manufactures secure documents such as the Moroccan biometric passport, vehicle licence discs, fiscal stamps, etc.
Over the years, production tools have greatly improved, as Dar As-Sikkah constantly acquires ultra-modern machines to produce high-quality and secure coins.
More than that, Bank Al-Maghrib now manufactures currency on behalf of foreign countries which trust its competence.
Bank Al-Maghrib supplies its agencies and branches, which, in turn, provide banks with the quantity and quality required. These quantities are made available to banking institutions, the General Treasury of the Kingdom and to the Post Office that, in turn, make them at the disposal of their customers.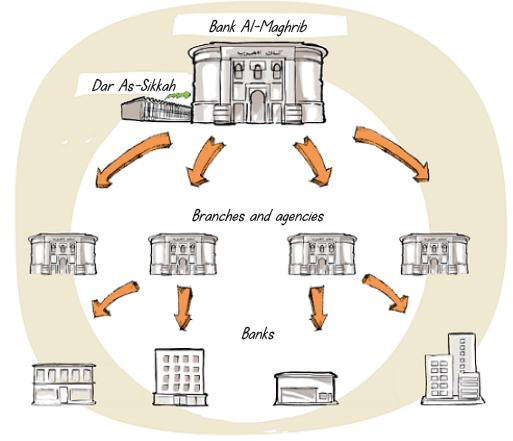 After being used in business operations in the market, returned banknotes and coins should be checked before being reissued. For this purpose, the money is transmitted back to Bank Al-Maghrib or to the cash processing centers to check their authenticity and quality. Fit banknotes are returned to circulation, while worn or unfit ones are destroyed in Dar As-Sikkah and replaced with good quality or new ones.