Cash cycle
The issuing of currency, a privilege given to BANK AL-MAGHRIB, is the first phase in the currency cycle. Preserving the quality of the currency in circulation is one of its main responsibilities. This is done by processing currency at the bank as well as by delegating it to specialized institutions under the conditions defined by the central bank.
At the end of the cycle, Bank Al-Maghrib withdraws from circulation banknotes and coins that no longer satisfy the conditions of circulation.
It refunds any mutilated, altered or deteriorated notes when it presents all of its recognizable signs and decides on total or partial reimbursement of the other notes which do not present all of the said signs.
The Bank shall assess the extent to which it is appropriate to exchange any coin whose identification has become impossible as a result of alteration or mutilation. In addition, Bank Al-Maghrib withdraws from circulation and cancels, without compensation, counterfeit banknotes and coins which are presented to it or which seem to allow fraudulent maneuvers, or to undermine the status of the Moroccan currency.
In this context, BANK AL-MAGHRIB chose to carry out the tasks assigned to it through the conduct of a so-called "Clean Note Policy" (CNP).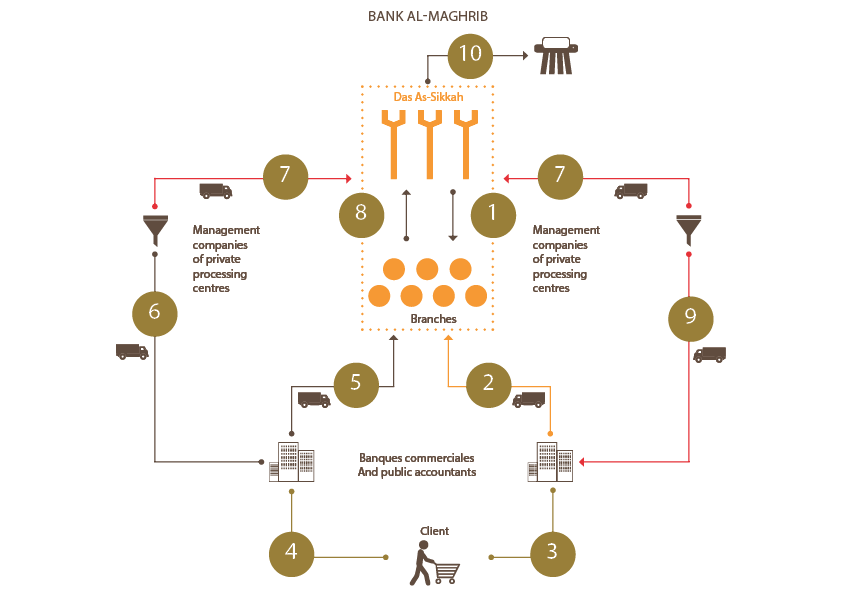 | | |
| --- | --- |
| 1 | Bank Al-Maghrib supplies its 20 branches with operational stocks of banknotes and coins. |
| 2 | Each branch of Bank Al-Maghrib provides banknotes and coins to commercial banks and public accountants within its area of operation. |
| 3 | All banknotes and coins are made available to the public via ATMs or through direct withrawal from bank counters. |
| 4 | After serving in various commercial transactions, these banknotes are subsequently returned to banks through customers or traders. |
| 5/6 | Banks send notes and coins for authentication and qualitative processing, either at the level of the Private Sorting Centers (PSC) or at the level of the Bank Al-Maghrib branch covering that area. |
| 7/9 | The PSCs process banknotes and coins. Those that are considered fit are recycled directly at banks. The surplus as well as banknotes and coins that do not satisfy the circulation conditions are returned to Bank Al-Maghrib. |
| 8 | Banknotes deposited for processing at Bank Al-Maghrib's branches are processed locally, within the limits of the means available to each branch. The reminder of the qualitative processing activities is carried out at the central level. |
| 10 | In the last stage, Bank Al-Maghrib proceeds to the cancellation and /or destruction of notes that cannot be put back into circulation. |