Supervision of cashless payment instruments
The growing importance of payment instruments in the Moroccan financial system makes of their safe use a prerequisite for preserving public trust in the currency and for the proper functioning of the economy as a whole. It is therefore vital to provide users of payment services with reliable and secure payment instruments.
In this context, and following the example of other central banks, Bank Al-Maghrib has endeavoured to align with international best practices in terms of safety, particularly considering its responsibility for ensuring credible payment instruments and preserving the user's trust.
GENERAL PRINCIPLES FOR PAYMENT MEANS OVERSIGHT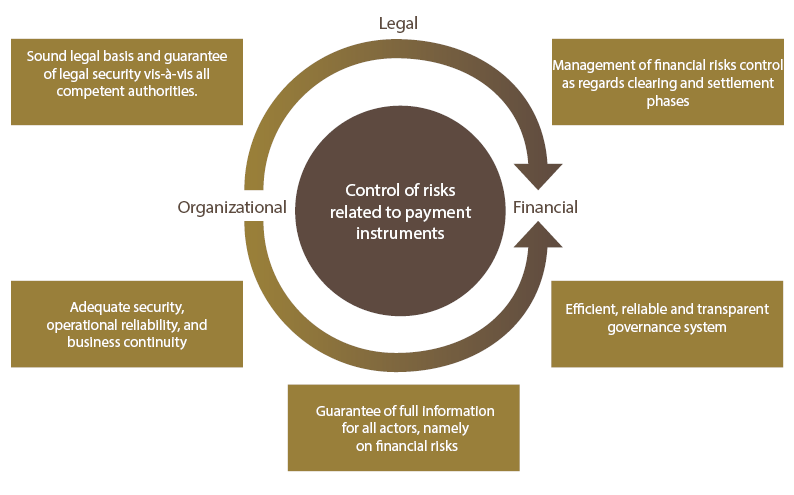 Bank Al-Maghrib has a clear task regarding the monitoring of cashless payment instruments security.
This monitoring involves:
Analysing probable threats to the payment instruments
defining minimum safety requirements, in consultation with the sector
upgrading the legal framework governing the payment instruments
Monitoring the implementation and the strengthening of safety standards
Monitoring cashless payment instruments in circulation
Preparing consolidated statistics on payment instruments exchanged inter and intra banking
Like MFIs, payment means are monitored on the basis of two complementary approaches: A permanent inspection, performed on the basis of the documents transmitted by payment means issuers, and an on-site inspection carried out periodically during missions within the reporting institutions. These inspections are designed to prove the exhaustiveness of the data reported in the statements as well as the effective implementation of Bank Al-Maghrib's recommendations as regards securing means of payment.
On-site inspections lead to drawing up recommendations and monitoring their implementation by the reporting institutions.