Intra-bank exchanges
Intra-bank exchanges concern all transactions carried out through cashless payment instruments between customers having their accounts within the same bank or group.
Owing to its new data collection system, Bank Al-Maghrib has, since 2013, access to information on intra-bank operations carried out by 20 institutions issuing or managing payment instruments on behalf of their clients. Hence, this device has allowed it to complete the exchange statistics provided by managers of payment systems.
Thus, at end-2015, intra-bank exchanges constituted over 45 percent in number and 43 percent in value of cashless trade.
SHARES OF INTER/INTRA-BANK EXCHANGES- 2015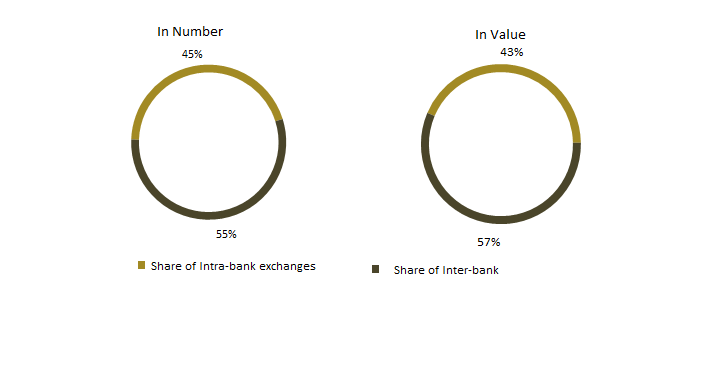 The breakdown of exchanges in number is as follows :
BREAKDOWN OF INTRA-BANK PAYMENT MEANS EXCHANGE IN 2015, IN NUMBER